Product Description
Product Specification
Reviews (129)
Turn your smartphone into the ultimate device for 3D games and split screen movies, works with over 300 optional virtual reality apps on Apple App store and Google Play store.
Scientific designed T-shaped head strap, balance the belt stress in three points to reduce 30% pressure to the eye, no dizzy & fatigue. Thick, padded facial cushion provides comfort for long periods of viewing time.
The front cover is adsorbed by magnet and easily removable. The front compartment is ventilated to help keep the phone cool during long use.
Lens depth and pupil distance are fully adjustable to give you the best immersive virtual reality experience, fit any users even myopia ones (under 600 degrees).
Compatible with iPhone, android and windows phones with 4.0-6.0 inches screen, recommended for phone size 4.7- 6.0 inches.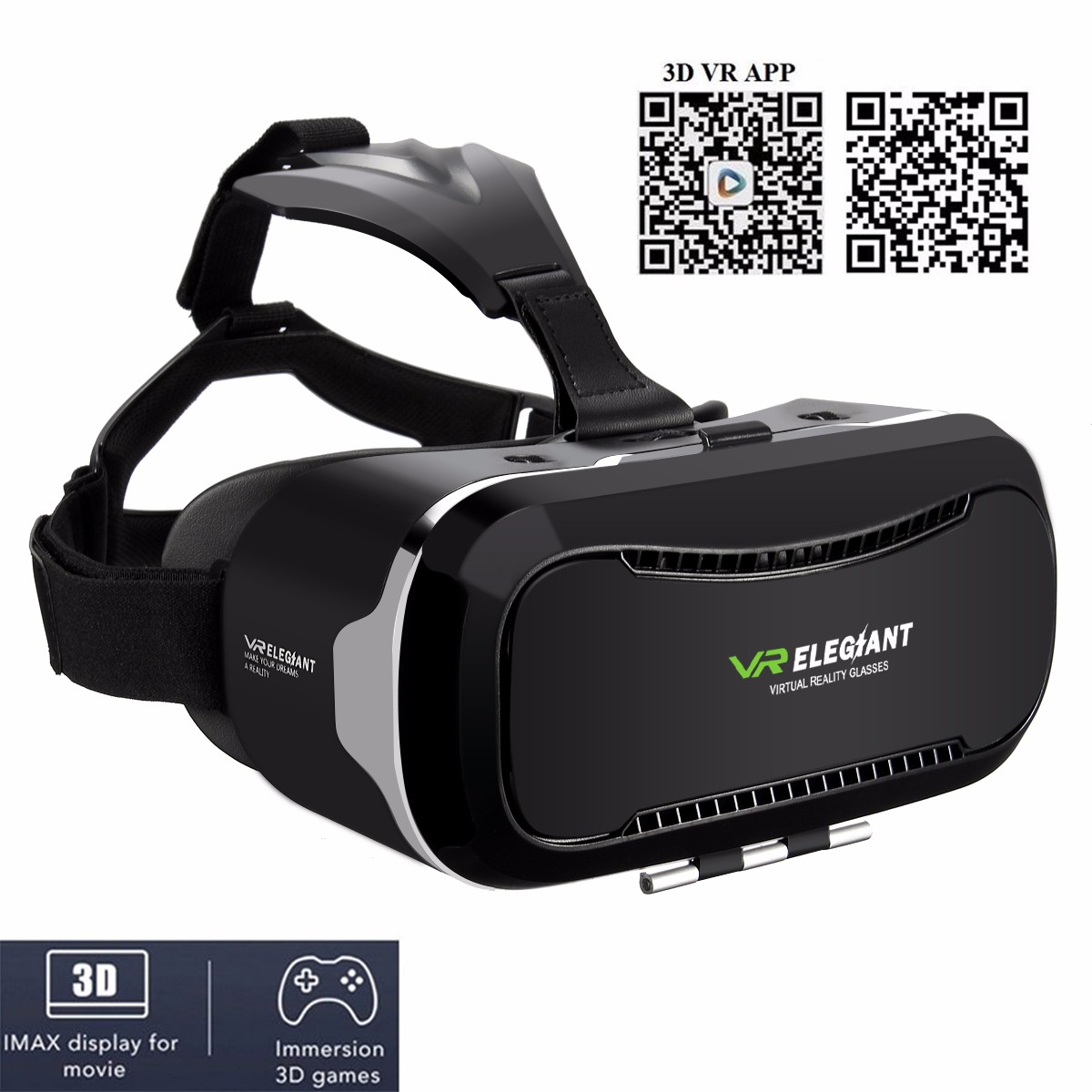 Features
1. Latest original adsorption panel, more intimate heat. Installation is simple and convenient pick up, wearing hot and solve the problem of heat dissipation phone.

2. Gently pick adsorption panel to open the camera phones into, wearing the camera head movement can be changed in seconds.

3. The lens uses newly developed high-quality light-transmissive optical lenses, more used to increase the lens diameter, wider clear vision for realistic detail display.

4. Support myopic view, within the 600-degree naked eye view Movies.

5. The exclusive right and left lenses IPD mediation, we all know that people have about different degrees of myopia, exclusive support around the lens ring can be adjusted.

6. The head contact memory rebound cortex goggles, high-quality artificial leather. Sponge material is more than the average heat more comfortable more upscale.

7. Supports multi-functional object distance and focal length adjustment, according to each different object distance and focal length to adjust.

8. phone into a more convenient, more centered around the screen. Support 4.0-6.0 inch screen smart phone into.

Package includes:
1 x Glasses
1 x Lens Cleaning Cloth
1 x Manual
1 x Sponge
Customer Reviews
Average rating:
(129 Reviews)
Write a review
May 25, 2018

Three Stars

Don't bug this thing without remote controller.

March 28, 2018

Three Stars

Can't use with my iphone 8

March 05, 2018

Good, not Great

It does what it needs to if you want to use your phone as your VR device. Even though it works with smaller screen sizes, the view you get is pretty tiny (which is expected). For the price, it is nice to have a device that you don't have to hold to your face yourself.

February 28, 2018

BOUGHT AS A GIFT AND HE LOVED IT!

BOUGHT AS A GIFT AND HE LOVED IT!

February 11, 2018

Intro into VR

This is an intro into the world of Virtual reality. Works with your phone and headphones but acts as a holder for the phone and a tool to get the picture from your phone which is a dual image into a single image you can view and immerse yourself into while wearing this goggles. You can see the videos at 360 but depending on the picture quality of your phone is the image you will be viewing.
Load more
Success!Your review was submitted!