ELEGIANT VR Headset 3D VR Glasses Virtual Reality Headset

£

21.99

Wholesale Price

Bulk Buy Discount

Order more and enjoy the savings

Add to Wishlist

Get it For Free
Product Description
Product Specification
Reviews (0)
Exquisite material: HD optical resin lenses, without stimulation plastic sheet,lowering down the distortion to the minimum when magnifying the images and providing wider view; You will not feel visual fatigue or dizziness even if you use it for a long time because of the resin lens.
Full scene 3D effect: You can slightly adjust the position of the spherical resin lens through moving the button on the top of the 3D VR GLASSES so as to get a better experience of watching movies.
Comfortable and Convenient: Take care of your eyes and put zero pressure to relieve the load of nose bridge and eyelid so as to alleviate feeling of fatigue.
Unique design: The button of mirror box applies a snap switch and impressed notch design, convenient and firm, the focal length setting allowing myopes to enjoy 3D virtual world, and more built-in stretchable earphones, you don't need to put other earphone in.
Suitable for most smart phones: Both Android and IOS, 4.0-6.0inch mobile phones, both sides holes of the VR headset is specially designed for the earphone/ data / charge cable but you had better not charge your phone during using the VR headset.
Features:
1.Flexible and adjustable headband is suitable for different people.
2.Only can look at the left-right 3D film (Support Android and iOS Smart Phones).
3.3D Glasses uses high-grade Sponge, more fit for your facial outline when you wear it.
4.Add visor to prevent leaking light,can press the button answer the phone,adjust the volume.


How to use:
1.Open the front cover: Pull the switch button at the top of the headset,and then open the top cover.
2.Start the App: Open the installed APP Client, and enter into the right-and-left dual-screen interface.
3.Insert the mobile phone: Insert the mobile phone into the device, and correctly adjust the middle-line of the mobile phone.
4.Helmet wearing: Adjust the tension of the 3 headbands to the most comfortable mode, please use it directly with glasses if myopic.
5.If there's phenomenon of fuzziness and double images, please adjust the 2 pupil distance adjustment switches at the top of the device to ensure that the observed pictures are clear and without double images. The lens fluctuate from left to right,and to the position with clear view.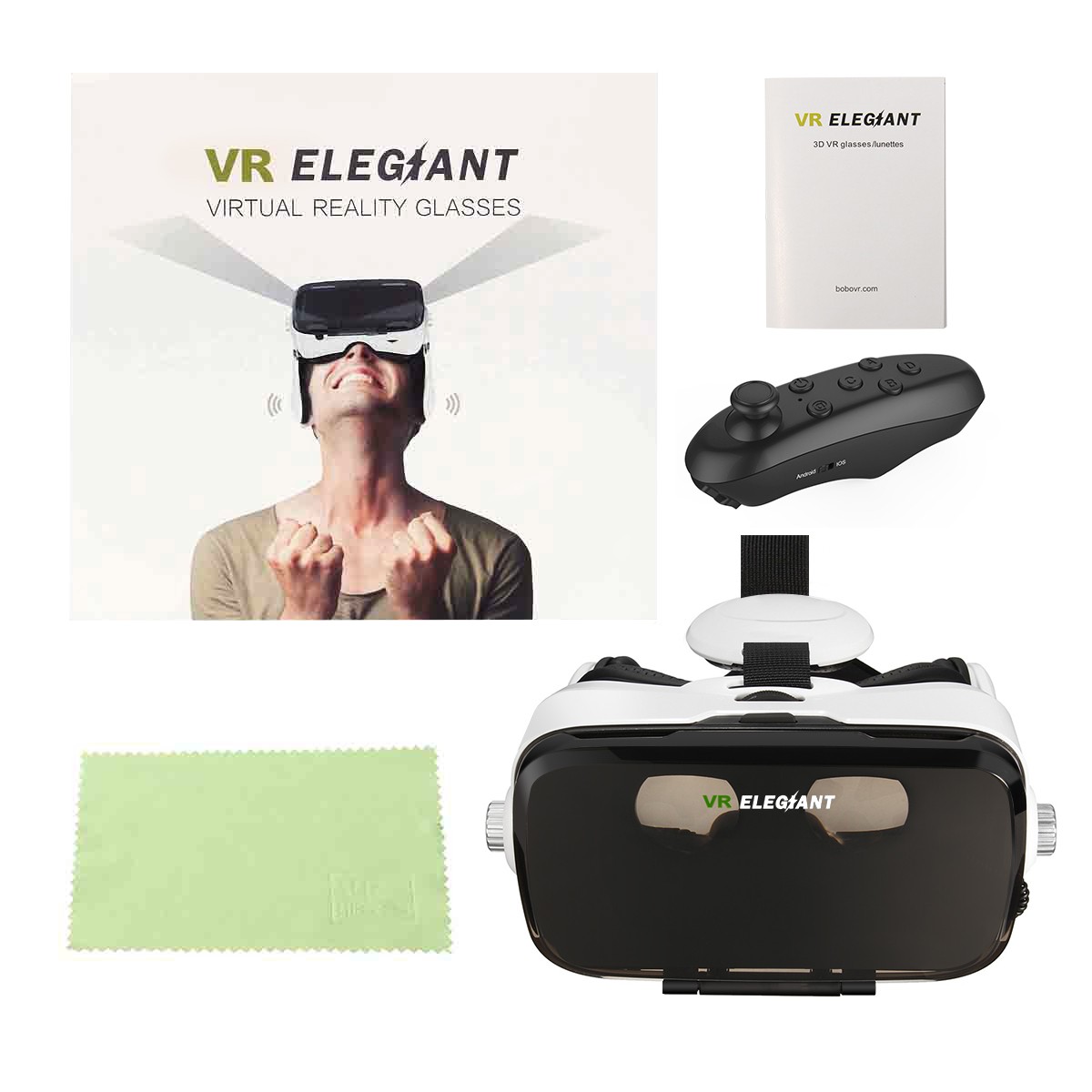 Package Included:
1 x 3D VR Glasses
2 x User Manual
1 x Clean Cloth
Customer Reviews
Average rating:
(0 Reviews)
Write a review
Success!Your review was submitted!